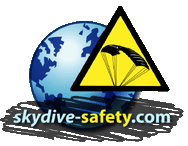 BPA - Advanced Packing Course
| | | | | | |
| --- | --- | --- | --- | --- | --- |
| | | | | | |
| | | |
| --- | --- | --- |
| | | Syllabus F169 • Training Record F175 • Joining Instructions F??? • Advanced Packers Application F208 • Course Material Requirements F??? • Course Report F??? • Programme F??? • Examination Report F??? • Record of Inspection Sheets F112 • Packing Card F??? • Incident Report Form 253 • Packing Tool List F??? |
| | | |
| --- | --- | --- |
| | | Rigging & Assembly • Inspection Techniques • BPA Rules • Closure Loops • Sealing Reserves • Compatibility Contamination • AAD's & RSL's • Safety Notices • Tools & Workplace • Documentation & Logs • Packing Lessons Privileges & Limitations |
| | | |
| --- | --- | --- |
| | | Side Packing • Pro Packing |
| | | |
| --- | --- | --- |
| | | Side Packing • Pro Packing |
| | | |
| --- | --- | --- |
| | | Tandem Reserve Packing Syllabus F198 • Tandem Inspection Check List F112A • Approved Tandem Parachute Equipment Modifications F212 |
Some of the documents included here are courtesy of the British Parachute Association (BPA). All updates issued by the BPA will be included here to ensure a one stop location for all your rigging needs.
Tandems reserve packing is not part of the advanced packing course, it's an extra qualification that can be added after qualifying as an advanced packer.
All those attending the advanced packers course must hold an approved packing certificate, therefore, it's assumed that all candidates are conversant with the subjects in the Approved Packers knowledge base.