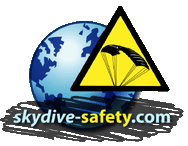 BPA - Basic Riggers Course
| | | | | | |
| --- | --- | --- | --- | --- | --- |
| | | | | | |
| | | |
| --- | --- | --- |
| | | Syllabus F199 • Training Record F??? • Joining Instructions F??? • Rigging Certificate Application F136 • Course Material Requirements F??? • Course Report F??? • Course Programme F??? • Rigging Loft Minimum Criteria F237 • Basic Rigger Registration F138 |
| | | |
| --- | --- | --- |
| | | Canopy Design & Construction • BPA Rules • Canopy Repair • Student Equipment • Fabrics, Webbings & Hardware Line Replacement • Container Repair • Quality Control • Documentation & Logs • Hand Tools & Grommets Manufacture & Installation of Components • Inspection Techniques • Sewing Machine Use & Adjustment • Privileges & Limitations • Safety Notices |
| | | |
| --- | --- | --- |
| | | Pilot Chutes • Bridle Lines • Deployment Bags • Sliders • Soft Links • Static Line • Control Toggles • Cutaway Handle Main Ripcords • Static Line Deployment Bag Specification F139 |
| | | |
| --- | --- | --- |
| | | Rigging Photos |
| | | |
| --- | --- | --- |
| | | Training Videos |

Some of the documents included here are courtesy of the British Parachute Association (BPA). All updates issued by the BPA will be included here to ensure a one stop location for all your rigging needs.
Basic riggers are qualified to repair all types of parachute equipment under supervision, however, they are limited to working within the training syllabus until qualified as a parachute rigger.
Basic riggers usually work in a rigging loft for a Parachute Rigger or above to gain experience, before returning for the examination phase.
All those attending the basic riggers course must hold an approved packing certificate and an advanced packing certificate, therefore, it's assumed that all candidates are conversant with the subjects in the Approved Packers and the Advanced Packers knowledge base.