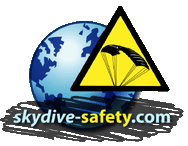 Photo By: Allan Hewitt
Photo By: Simon Ward

Technical Advisor - Pending
British Associates
Beech Aircraft Corporation
Dassault Aviation
Piper Aircraft Corporation
Soloy Corporation
Cessna 206
Cornish Parachute Club - Skydive St Andrews - Wild Geese Skydiving Centre - Skydive South Coast - Skydive Strathallan - Skydive G B.
Cessna Caravan
This section shows aircrafts available in the UK.
We aim to develop this further to include aircrafts and drop zones all around the world.
Can you help by sending photos and specifications of your skydiving aircraft.
Please e-mail Skydive Safety if you can help with this project.
Wild Geese Parachute Centre - Headcorn Parachute Club - British Parachute Schools - London Parachute School - Army Parachute Association - UK Parachuting.
Cherokee 6
Dornier G92
Target Skysports - Skydive Weston.
Finisg SMG 92
Target Skysports - Silver Stars.
Nomad
North London Skydiving Centre.
Porter
Black Knights Parachute Centre.
PAC 750 XL
North West Parachute Centre - Hinton Skydiving Centre.
King Air
Twin Otter
North London Skydiving Centre.